Business and Commerce
---
Early Day Scene Shows Boulder Streets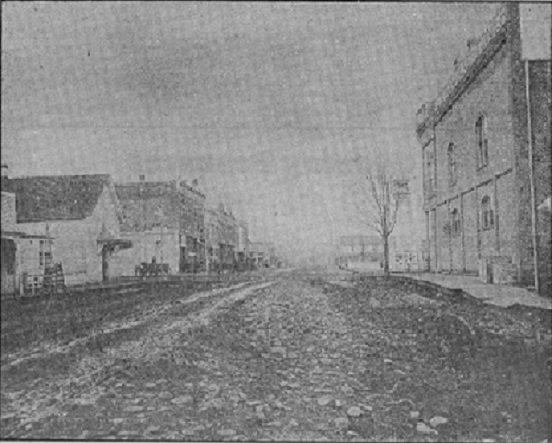 Polk County Itemizer-Observer photo. Looking North on Main Street from near Washington St.
Polk County Itemizer-Observer, Thursday, June 20, 1929 The picture to the right, which numerous old timers have established as being taken in the early 1890's, shows Dallas at a period when it was probably making its most rapid changes from a pioneer village to an important city. Several of the first permanent buildings had recently been completed. The streets, which previously had been bottomless mud in the winter and dust in the summer, had been reinforced with boulders and a top covering of finer rock, as the foreground indicates.
The photograph was taken from Main Street looking north from a point probably in front of the present J. C. Penny Co. store. The corner now occupied by Mac-Marr Store was then a new brick building, which was the home of Fenton & Toner's general store.
A board fence surrounded the courthouse square (barely visible, on the right side of this photo) but was torn down at the time the new courthouse was built in 1899, and the fire bell tower was located in the southwest corner of the square.
The large building on the right background was known as the Jap restaurant building and was located where the new home of the Mountain States Power Co. is now being built.
On the left foreground is the law office of J. L. Collins, which was later moved near the Collins' residence on Court Street, where it still remains. The church building, occupying the present Dallas National Bank corner, was the old Methodist church, and at the time of the picture, it housed a hardware store. At one time it was used as a gymnasium.
The office of Dr. M. Hayter, dentist, was located to the upstairs of the Wilson building and the shingle may be noticed below the window.
The original photograph, from which this cut was made, is in the possession of August Risser, and shows the general details more clearly.