Events
---
Annual Widow's Banquet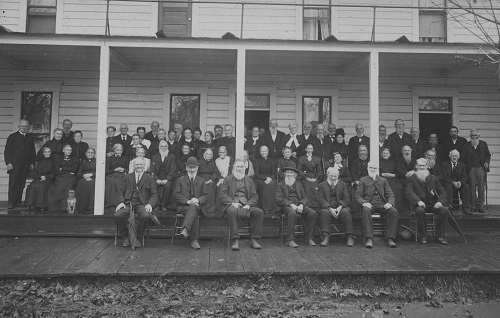 One of Polk County's most colorful characters coming to Polk County in 1847 was W. C. Brown. He had the first general store in Dallas, when it had moved to the south side of the Rickreall Creek. He was known for his hard work, being a good businessman, always active in community affairs, and especially for his generosity to the community.
William Brown was most famous for his annual banquet for widows of the community on his birthday, November 30. In 1908 this affair had become so well known that the Dallas Itemizer and the Dallas Observer both carried accounts of this big event. The dinner was described by the Observer in the December 1, 1908 issue:
"Eighty-four years old and looking hale enough to live to see one hundred, Hon. W. C. Brown, the 'Uncle Bill' who has come to be regarded all over Oregon, as a sort of an incarnation of Santa Claus, celebrated his birthday at the Dallas Hotel yesterday afternoon, with his famous annual banquet to the widows of the city; a banquet that has come to be regarded as one of the biggest events of the year in Dallas and whose fame has spread abroad until it is viewed with an almost equal amount of interest by residents of neighboring cities."
The newspaper continued to report that this year he added the widowers of Dallas as well. He was so pleased with the success that he declared he would continue this at his future parties. Fifty guests assembled in the hotel parlor and shortly after one o'clock, dinner was announced and the guests filed into the dining room, seating themselves on each side of the large table with Mr. Brown at the head.
"…Every delicacy that culinary ingenuity could devise, made a bill of fare that might have been the envy of an epicure, and above all, there was the atmosphere of good fellowship, the spirit of the holiday, to give zest to the eating of the delicious birthday dinner."
Mr. Brown invited all of his guests to return next year to help him celebrate his next birthday. His speech was followed by short speeches from some of the guests, thanking him for his kindness and extending birthday greetings and wishes for a long and healthy life. Everyone gathered in front of the Dallas Hotel for a photograph commemorating the event.
Hundreds of letters came to Mr. Brown from all around, wishing to be invited to his celebration. The Itemizer printed one of the more picturesque letters from the Amalgamated Association of Kentucky Widows.
The letter was written on behalf of the Amalgamated Association of Kentucky Widows, asking permission to enter its members in the "matrimonial handicap". The letter went on; "They are bred in old Kentucky and are more mellow and intoxicating than its whiskey. They can set a swifter pace than its horses, and are sweeter than its mint beds, though not so green."
"The blue grass widow has inherited all the good and gracious gifts of nature; her satin skin excels the shinning skin of the racer; you might light your cigar at her eyes and warm your hands at her heart; the roses pasture on her cheek; her lips are redder and sweeter than a slice of Georgia watermelon, while her hair is like light and dark Burley; her form displays more curves than a champion baseball pitcher."
The letter went on describing the loveliness of the widows who were interested in being included next year because the "killing of our citizens in the closed season has thinned out the eligible bachelors and widowers, deducting them from the census".
The letter continued for another colorfully worded page. Mr. Brown laughed it off, saying he would not be inviting them. There were plenty of great ladies in Dallas. We will never know for sure as W. C. Brown passed away at his home on May 10, 1909.
Children's Nickel Toss October 26, 1902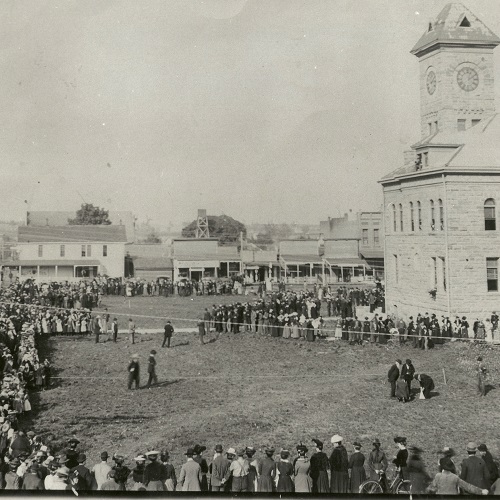 CW Brown did toss 2,000 nickels (non of them buffalo nickels as they were not minted this early) out on the courthouse lawn.
Polk County Observer published this story on October 31, 1902. Mr. Brown made a promise that if the price of hops should go above 20 cents per pound, he would give the children of Polk County $100. He sold his crop for 25 cents a pound.
Saturday afternoon, October 26, 1902, Many people from Polk County gathered to watch 400 school children collect 2,000 nickels. The children were lined up according to size and age, boys on one side of the square and girls on the other. Mr. Brown went through the crowd of children and gave away more nickels to children who did not get any in the scramble. One boy who had collected 20 nickels came off the lawn with nothing. It seems he had a hole in his pocket.
This story was written by Earle Richardson in 1947 and can be found in Historically Speaking, Vol. III, one of the Polk County Historical Society's publications.